Ice time and instruction from experienced curlers!
The Kalamazoo Curling Club offers L2C instructional sessions for various ages. We can accommodate anyone as long as you can get a 42-pound piece of granite down a 150-foot sheet of ice! If you have concerns about sliding on the ice, we also have sticks that allow you to walk and push a rock instead of sliding :)
Dates and times for each L2C are shown on our Eventzilla Page. Also check our Facebook Events Page for announcements.
PLEASE NOTE THAT WE ARE CLOSED FOR THE SEASON. CHECK BACK IN THE FALL FOR INFORMATION ABOUT OUR LEARN TO CURL PLANS FOR THE 2022-2023 SEASON.
The Kalamazoo Curling club offers several ways to learn how to curl.
For those wanting a complete experience, the club offers multi-week curling academies. These include 3 instructional sessions that go in depth in how curling works. On day 1 we will teach you how to throw and sweep, on day 2 we will go over how the game works (including strategy!), and on day 3 it's GAME ON against others in your class.

We also offer short (90 minute) learn to curl classes where you can learn some of the basics of the game.
For any of the events listed above, you can register as an individual ("free agent"), as couples, or in small groups with a suggested size of 4 people (team size) or 8 (game on!), and we can handle up to 40 people in one class! If your group has 3, 9 or any odd number, that's okay as we will team you up with others!
For more information or if none of these options work for you, please email This email address is being protected from spambots. You need JavaScript enabled to view it..
For special arrangements of large groups of 20 or larger, please email This email address is being protected from spambots. You need JavaScript enabled to view it..
Note that space is limited, so sign up soon!...
See below for more info!...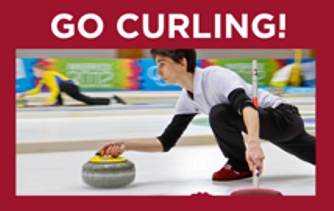 In addition to the club's L2Cs / Curling Academies, the club also offers a mini league for beginners where new curlers can PLAY, have FUN, and receive instruction from experienced players -- Sunday afternoons throughout the year! For more info click HERE or send an email to This email address is being protected from spambots. You need JavaScript enabled to view it.

How to REGISTER: To save a spot for you and your friends or family members, first decide whether you want to participate in the learn to curl academy or just do an afternoon class. For the class, please be sure to have date and time selected on the Eventzilla "SELECT A DATE" drop-down list for the day you want to attend! For the academy, select which academy you would like (winter or spring). Then, for either type of event, (under 'Quantity') select the number of spots you wish to reserve, and click the blue 'Proceed' button. Multiple dates cannot be selected for any one registration date so, if you would like to attend more than one L2C, please repeat the registration steps for each date you want to attend. NOTE: if you encounter a web browser compatability issue or you prefer to view the full registration form on a separate page, click HERE.
Please arrive 15 minutes prior to the scheduled start time!
How to PREPARE: Please bring a separate pair of clean shoes and wear warm, loose-fit clothing (note: jeans are discouraged) ...we will provide everything else you'll need to curl! If you want to "read up" on some basics of this sport, please refer to Curling 101.

Thank you for your interest in curling!
If you have any questions, please email: This email address is being protected from spambots. You need JavaScript enabled to view it.

We look forward to seeing you out on the ice!
The Kalamazoo Curling Club


* www.facebook.com/KalamazooCurling/events