Ice time and instruction from experienced curlers!
Dates and times for each L2C are shown on our Eventzilla Page. However, please note that we have (for now) unfortunately cancelled all L2C classes until January 2021. Please check back, around mid-December, on our Facebook Events Page for announcements. And when we get started again not that space is limited, so sign up soon!...
See below for more info!...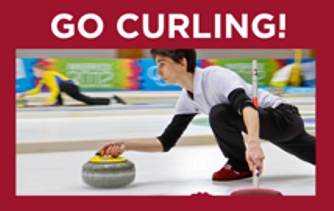 How to REGISTER: To save a spot for you and your friends or family members, please be sure to have date and time selected on the Eventzilla "SELECT A DATE" drop-down list for the day you want to attend! Then (under 'Quantity') select the number of spots you wish to reserve, and click the blue 'Proceed' button. Multiple dates cannot be selected for any one registration date so, if you would like to attend more than one L2C, please repeat the registration steps for each date you want to attend. NOTE: if you encounter a web browser compatability issue or you prefer to view the full registration form on a separate page, click HERE.
Please arrive 15 minutes prior to the scheduled start time!
How to PREPARE: Please bring a separate pair of clean shoes and wear warm, loose-fit clothing (note: jeans are discouraged) ...we will provide everything else you'll need to curl! If you want to "read up" on some basics of this sport, please refer to Curling 101.

Thank you for your interest in curling!
If you have any questions, please email: This email address is being protected from spambots. You need JavaScript enabled to view it.

We look forward to seeing you out on the ice!
The Kalamazoo Curling Club


* www.facebook.com/KalamazooCurling/events

(which should still be visible above) and replace it with the following code: -->